World's smallest tribe to create dictionary
World's smallest tribe to create dictionary
Tuesday, April 22, 2014 – 00:00 — BY KINGS WAWERU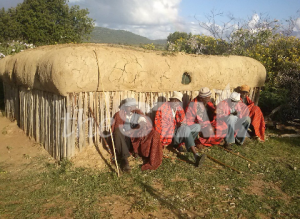 FEW WISE MEN: Yaaku elders outside a hut in Mukogodo Forest on Saturday. Photo/Kings Waweru
THE smallest community in the world, Yaaku, are in the process of writing a dictionary in its native language. Elder Manasseh Lax Matunge said they have embarked on the mission after acquiring a manuscript written by a German scholar 44 years ago.
On Saturday, a Hungarian doctor working with British army training unit in Kenya Szabo Laszlo presented the manuscript to the community. Laszlo said he traced Professor Bernd Heine in Germany and obtained the materials that he wrote between 1967 and 1969 when he was a lecturer of linguistics at the University of Nairobi.
According to United Nations Environmental, Scientific and Cultural Organization, Yaaku community is the smallest community on earth with a population of between 3,000 and 4,000 people.
The organisation has observed that the community is facing extinction, after its people were assimilated by the Maasai and Samburu. The community lives deep inside Mukogodo forest in Laikipia North subcounty.
Matunge said only ten elderly people, nine men and one woman, can speak and understand the Yaaku language. "Yaaku people were hunters and gatherers who lived in Mukogodo forest. They conserved it. Contrary to many beliefs, we are not Nilotes but Cushites" he said.
Matunge said they go to local primary schools three days a wee to teach the children their native language and culture. They have also established a museum.
Matunge said the community has four clans – Orondi, Sialo, Losos and Luno. Apart from the assimilation due to intercommunity marriages, the Yaaku claim successive governments have failed to recognise them.
They said they have not seen any development in the area despite conserving the forest, which they consider their home. Matunge said the senior most person in the government from the community is Jeniffer Koinante, a recently nominated member in the Laikipia county assembly representing the minority.
Laszlo said he will fundraise to help the ten elders have a better and longer life so they can pass the traditions, knowledge and cultures of the community to the younger generation.
"Being a lover of linguistic despite being a medical doctor, I would like to see that the cultural and traditional identities of the Yaaku people are preserved," he said. Laszlo promised to set up a museum and a medical facility in the area.
– See more at: http://www.the-star.co.ke/news/article-163991/worlds-smallest-tribe-create-dictionary
Source: http://www.the-star.co.ke/news/article-163991/worlds-smallest-tribe-create-dictionary