Cushitic Languages
The Cushitic languages are a branch of the Afro-Asiatic language family spoken primarily in the Horn of Africa (Eritrea, Djibouti, Ethiopia and Somalia), as well as the Nile Valley (Sudan and Egypt), and parts of the African Great Lakes region (Kenya and Tanzania). The branch is named after the Biblical character Cush, who was traditionally identified as an ancestor of the speakers of these specific languages as early as 947 CE (in Masudi's Arabic history Meadows of Gold). Meadows of Gold and Mines of Gems (in Arabic مروج الذهب ومعادن الجوهر transliteration: Muruj adh-dhahab wa ma'adin al-jawahir).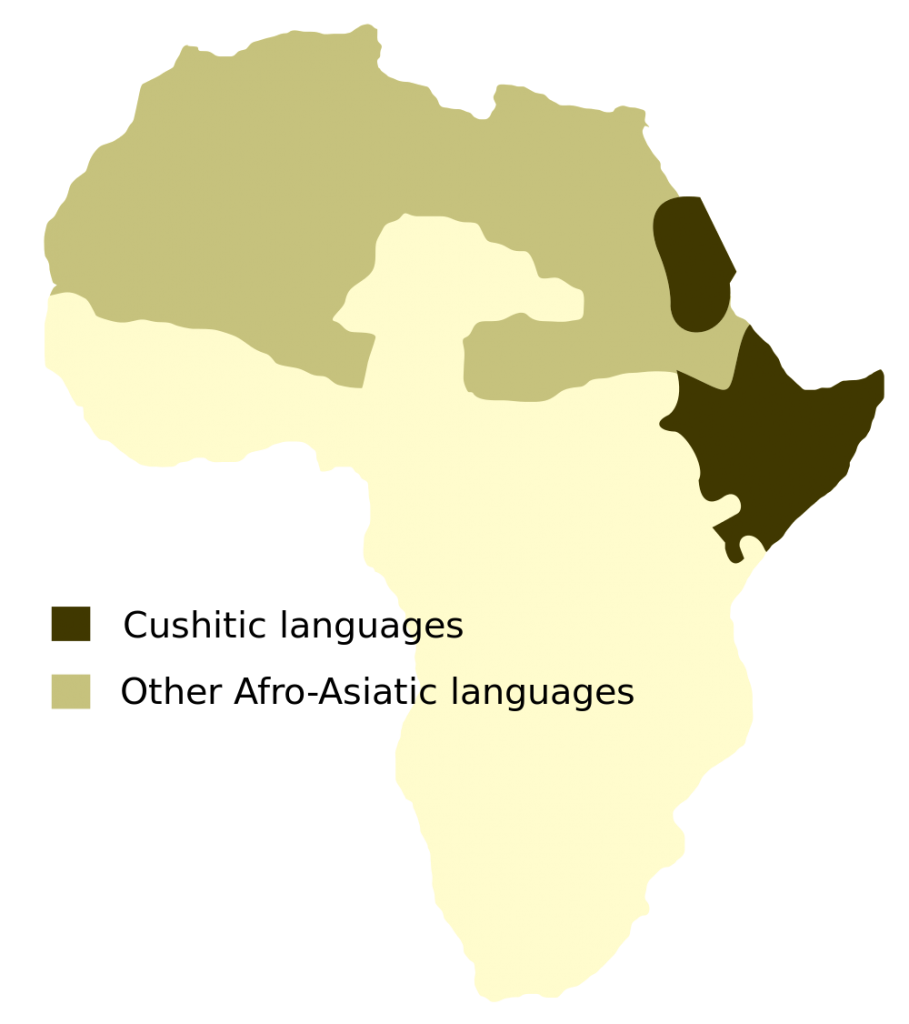 Cush, also spelled Kush, (Biblical כּוּשׁ Kûš) was, according to the Bible, the eldest son of Ham (who was a son of Noah). Kush was the brother of Mizraim (Egypt) and Canaan (land of Canaan). Kush was the the father of the Biblical characters Nimrod, and Raamah, mentioned in the "Table of Nations" in the Genesis 10:6 and I Chronicles 1:8.
Kush is traditionally considered the eponymous ancestor of the people of Cush, a dark-skinned people inhabiting the country surrounded by the River Gihon, identified in antiquity with the Nile River and Aethiopia, i.e. all Sub-Saharan Africa, particularly the Upper Nile.
The most populous Cushitic language is Oromo (including all its variations) with about 35 million speakers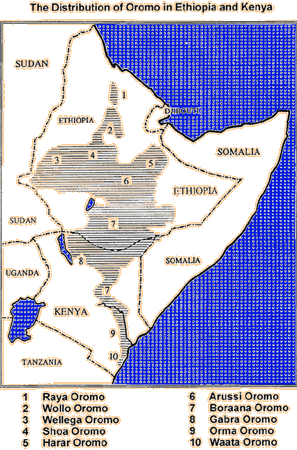 Oromo is followed by Somali with about 18 million speakers, and Sidamo with about 3 million speakers. Other Cushitic languages with more than one million speakers are Afar (1.5 million) and Beja (1.2 million).
The Cushitic languages are usually considered to include the following branches:
Lowland and Highland East Cushitic are commonly combined with Dullay into a single branch called East Cushitic.
Proposed classification of Cushitic and its sub-divisions
Greenberg (1963)
Newman (1980)
Fleming (post-1981)
Ehret (1995)

Afro-Asiatic

Cushitic

Northern Cushitic
(equals Beja)
Central Cushitic
Eastern Cushitic

Western Cushitic
(equals Omotic)

Southern Cushitic

(excludes Omotic)

Afro-Asiatic

Omotic
Erythraean

Cushitic
Ongota
Non-Ethiopian

Afro-Asiatic

Cushitic

Beja
Agaw
East–South Cushitic

Eastern Cushitic
Southern Cushitic

Orel & Stobova (1995)
Diakonoff (1996)
Militarev (2000)
Ethnologue (2013)

Afro-Asiatic

Cushitic

Omotic
Beja
Agaw
Sidamic
East Lowlands
Rift

(Does not include Omotic)
There are also a few poorly classified languages, including Yaaku, Dahalo, Aasax, Kw'adza, Boon, Mbugu and Ongota. There is a wide range of opinions as to how these languages are interrelated.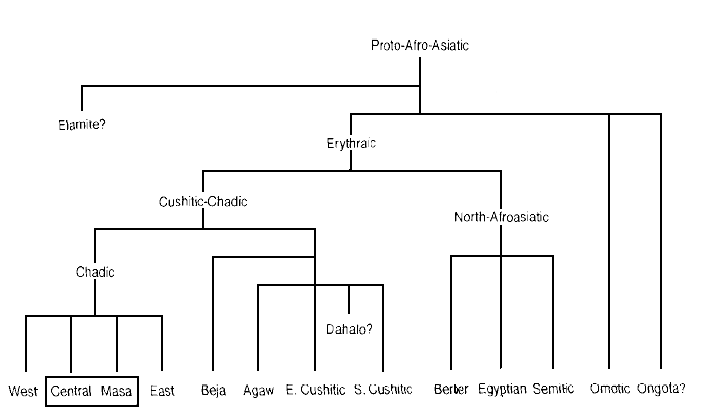 The positions of the Dullay languages and Yaaku are uncertain. These have traditionally been assigned to an East Cushitic branch along with Highland (Sidamic) and Lowland East Cushitic. However, Hayward believes East Cushitic may not be a valid node and that its constituents should be considered separately when attempting to work out the internal relationships of Cushitic.
Edited by Dr. Szabo, Laszlo
Mzungu Balozi ya Yaaku
Sources:
Nordhoff, Sebastian; Hammarström, Harald; Forkel, Robert; Haspelmath, Martin, eds. (2013). "Cushitic". Glottolog 2.2. Leipzig: Max Planck Institute for Evolutionary Anthropology.
Richard Hayward, "Afroasiatic", in Heine & Nurse, 2000, African Languages
Savà, Graziano; Tosco, Mauro (2003). "The classification of Ongota". In Bender, M. Lionel et al. Selected comparative-historical Afrasian linguistic studies. LINCOM Europa.
Sands, Bonny (2009). "Africa's Linguistic Diversity". Language and Linguistics Compass 3 (2): 559–580. doi:10.1111/j.1749-818x.2008.00124.x.
Robert Hetzron, "The Limits of Cushitic", Sprache und Geschichte in Afrika 2. 1980, 7–126.